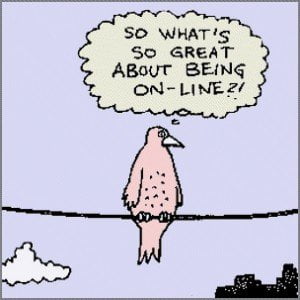 As a reader of an online bird watching blog you have already discovered that the web is a valuable tool for learning about, identifying, and finding birds near you. In New England we are blessed with many online resources dedicated to bird sightings. This plethora of New England sites is a direct result of the area's concentration of active bird watchers and the ease with which individuals can now share data on the Web. These sites are sponsored by both individuals and organizations and can be divided into three areas of focus: recent sightings, rare bird alerts, and compiled data.
Recent sightings: trip or individual reports that list a broad range of highlights but generally leave out the more common birds for the time of year such as Black-capped chickadees and Red-tailed hawks
Rare bird alerts: report ONLY birds that are very unusual to the area and time of year such as European rarities or west coast migrants
Compiled Data: thousands of individual lists and historic trip reports compiled into sortable data by species and geography
These online resources can be overwhelming to the beginner birder. Remember that many of these observations are from hard nosed bird watchers braving inclement weather and pre-dawn cold. "They saw what!" Is often the first response to a rare bird report, or trip list. But take heart, while the rare bird sites are dedicated to the strange birds that pop up out of season the recent sightings can help queue you in on what to look for in your area. For example, Common redpolls and Barred owls are turning up in recent sightings around New England so give a second look to the thistle feeder and you may just find a redpoll amongst the finches or take a walk on a calm, clear night and listen for Barred owls beginning to give their barking call. Looking through the compiled data is a great way to learn when a particular bird may show up in your area. Explore the sites below for your location or do a quick Internet search for "recent bird sightings [your location]" and see what's about.
Recent Bird Sightings
Ebird - U.S. or international data on occurrence by species or location